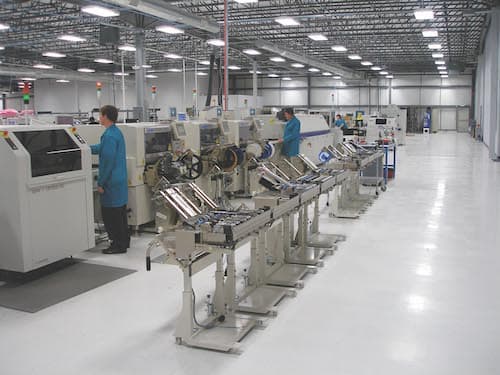 Invented in the 1940s, vinyl tile was the first ESD flooring material. Today's most suitable vinyl products are solid vinyl tiles (SVTs). Properly maintained SVT is attractive and its monolithic appearance can give a facility a hospital-like look of cleanliness and shine. ESD vinyl is relatively inexpensive, simple to repair, and capable of handling heavy rolling loads.
When people walk across the floor, the carbon veins in a conductive SVT form an electrical bond between the floor and shoe soles, drawing static away from the human body to ground. To evaluate the conductivity of a floor, or its ability to transport charges to ground, we perform an electrical resistance test. Conductive vinyl easily measures under 1.0 x 10E9 ohms, the ANSI/ESD maximum acceptable measurement for electrical resistance, and usually tests in what we call the "Sweet Spot," between 1.0 x 10E5 and 1.0 x 10E8, the ideal resistance range.
Note: ESD vinyl (dissipative or conductive) is a static-generating material. Vinyl does not inhibit static when people walk on the floor with regular static generating footwear. ESD vinyl meets ESD standards for charge generation only if every person in the space wears special ESD-protective footwear.
Unlike less expensive static-dissipative vinyl composition tiles (VCTs), SVT controls static without the need for periodic ESD-wax or polish treatments. Most manufacturers recommend cleaning methods that steer clear of finishes, polishes, or waxes. Since SVT is uniform throughout the thickness of the tile, high-speed buffing—what maintenance professionals call "burnishing"—is sometimes recommended for cleaning.
Over time, burnishing can damage the tile, making simple washing and low-speed buffing the preferred cleaning method.
Using conductive dry adhesives or fast-drying pressure-sensitive adhesives, low in volatile organic compounds (VOCs), some ESD vinyl can be installed in occupied spaces, right over the old floor, eliminating the need for shutdown during installation. For installers, leaving the floor in place reduces exposure to pre-existing dangerous contaminants like asbestos in older VCT tiles.
Risk Factors
To avoid unsightly installations, with gaps between seams, be sure the vinyl tiles will not shrink from plasticizer migration. Before selecting any vinyl tile, specifiers should ask:
Where are the tiles manufactured?
Is the material free of heavy metals, dioctyl phthalate (DOP), and bis(2-ethylhexyl)phthalate (DEHP) plasticizers?
Does it meet all specifications for squareness and standards for electrical properties?
Must Be Used in Conjunction with Static-Protective Footwear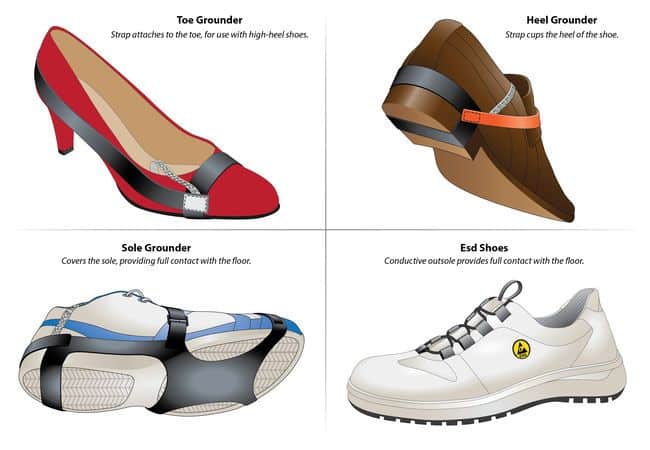 While the conductivity of ESD vinyl reliably draws static away from people to ground, the plastic base materials in vinyl generate static. When people walk across the floor wearing ordinary shoes, the friction between the soles of their shoes and the floor will produce static, called Walking Body Voltage.
Once static builds on the body, the most conductive flooring material cannot bleed the charge quickly enough to prevent static from discharging when the person touches an electronic device—in other words, cannot protect electronics from the threat of random ESD events.
The conductive material in static-protective footwear—heel straps, toe straps, or special ESD shoes—forms an electrical bond between the wearer and the floor, preventing static buildup as the person walks across an ESD floor. With the use of protective footwear—and only in conjunction with special ESD footwear—conductive vinyl meets industry standards.
Without ESD-protective footwear, conductive vinyl is a static-generation liability.
As the floor cannot prevent static generation without ESD footwear, it's suitable for use only in areas where special static-protective footwear is mandated and mandates are strictly enforced—generally true of most electronics manufacturing facilities. ESD vinyl is not suitable for use in 24/7 mission-critical call centers, dispatch centers, flight towers, or any other space in which people wear regular, non-ESD street shoes.
Pros and Cons of ESD Vinyl
Pros
Attractive
Mono-lithic design creates clean, hospital-like appearance
Moderate cost
Durable
Can handle high traffic and heavy loads
Easy to install and repair
Some ESD vinyl can be installed over old floors
Snap-together options can be installed over subfloors with moisture problems
In conjunction with ESD footwear, meets industry standards for electronics manufacturing and handling environments
Cons
Static-dissipative (SDT) vinyl gains ESD properties from special wax or polishes
Static-generating material: can only be used in conjunction with ESD footwear
Unsuitable for use in 24/7 mission-critical or other end-user environments