A Guide to ESD Flooring Selection
Flooring Selector Guide
Checklist
ESD Flooring Decision Tree
Walking Body Voltage
Resistance Requirements
Comparing Types of Flooring
Industry Standards and Test Methods
Key Terms
Flooring Selector Guide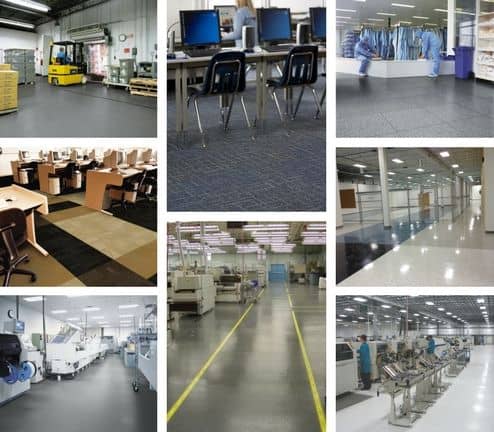 Electrostatic discharge (ESD) is a well-documented, invisible threat to electronic parts, systems, and mission-critical operations. Risks include damage to equipment, product returns, facility downtime, communication errors, and liability.
Eliminating the risk of random ESD events requires "fault-tolerant" static-control flooring that performs consistently — regardless of variables such as footwear, maintenance, and humidity. Specifications for a static-control floor should address unique environmental conditions and meet the latest industry-approved ESD standards.
Using evidence-based design principles, you can match the right product to its post-installation environment.

What You'll Find in This Section
The information in this guide is based on industry-approved flooring specifications, along with the review of hundreds of static-generation tests on all forms of ESD flooring, using multiple test subjects wearing dozens of types of ordinary and ESD footwear — providing a scientific framework for finding customized flooring solutions.
Flooring Specification Checklist
ESD Flooring Decision Tree
Walking Body Voltage
Resistance Requirements and Testing
Comparing Types of Flooring
Industry Standards and Test Methods
---
Checklist
ESD Flooring Decision Tree
Walking Body Voltage
Resistance Requirements
Comparing Types of Flooring
Industry Standards and Test Methods
Key Terms
The form below will help us better understand your needs and get you as quickly as possible to the right person. We look forward to helping you solve your static problem!
You can expect a response within 24 hours. For faster service, please give us a call: 617-923-2000
StaticWorx Flooring Products
StaticWorx high-performance static-control floors protect electronic components, explosives, and high-speed computers from damage caused by static electricity. ESD flooring is part of a system. Choices should always be based on objective, researched evidence. When you partner with us, we look at all possible items that may need to integrate with the floor, and, focusing on your goals and objectives, help you find the right floor for your application.