The StaticWorx Green Story
StaticWorx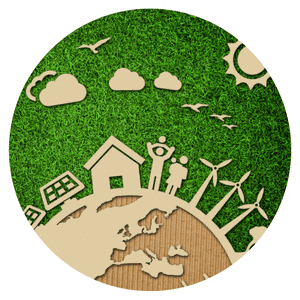 At StaticWorx, the flooring we provide meets all industry and safety standards applicable to the application. But performance isn't enough. Our commitment to environmental stewardship means doing our part—by making environmentally sound choices and providing sustainable products—to help pass a healthy planet on to future generations.
Our commitment to sustainability extends beyond the recycling efforts of our paperless StaticWorx offices and the environmentally-conscious products we offer. We check the sustainability cred of partners and whenever possible work only with environmentally like-minded companies. Through our GroundSafe initiative, we help clients ensure the electrical safety, static-control performance, and environmental health of their worksites.
Vinyl
The manufacturing process for our FloorScore-certified conductive vinyl tile uses recycled water, and repurposes scrap and rework materials, producing next to no waste. Our vinyl tile contains no asbestos, phthalates, or other harmful additives, and is VOC free. Because routine maintenance requires only regular buffing, there are no corrosive strippers or toxic inhalants to worry about after the vinyl floor is installed.
AmeriWorx conductive vinyl tile is LEED certified and passes stringent emissions tests.

Rubber
Our conductive (EC) and glue-free (GF) Rubber are among the most environmentally sound flooring products on the planet. Both are produced in tightly-controlled thermo-powered facilities, using recycled water and reclaimed materials. Our Eclipse EC and GF rubber have attained LEED v4 rating and been awarded GreenGuard Gold status, recognizing their contribution to maintaining excellent indoor air quality and lack of harmful additives or emissions.

Carpet
Made in an environmentally-controlled facility, our static-dissipative carpet tile contains 50 percent recycled content, and every yarn bundle is wrapped with Helix 44-denier static-control fiber. With random directionality and durable fiber, StaticWorx carpet looks attractive, even in heavy traffic areas, and lasts longer than most carpet on the market.
StaticWorx carpet tile is Green Label Plus-certified, designated to carpets identified with very low emissions of volatile organic compounds (VOCs) by an independent testing program. This program is an enhancement of the Carpet and Rug Institutes' Green Label Carpet Testing Program and establishes the highest standard for indoor air quality (IAQ) ever set by the carpet industry.

Conductive Adhesive
Our adhesives contain no VOCs and have earned the floorcovering industry's respected FloorScore certification.
FloorScore®
Indoor Air Quality Certified to SCS-EC10.3-2014 v3.0
Conforms to the CDPH/EHLB Standard Method v1.1-2010 (effective January 1, 2012) for the school classroom, private office, and single-family residence parameters when modeled as Flooring. Also, conforms to the SCAQMD Rule 1168 – Adhesive and Sealants (January 2005); Hong Kong Air Pollution Control (VOC) Regulation.

With StaticWorx ESD flooring, you never have to choose between performance and aesthetics. Our beautiful, high quality ESD carpet tile, vinyl, EC rubber tile and sheet goods, and ESD epoxy floors are as beautiful as they are functional.