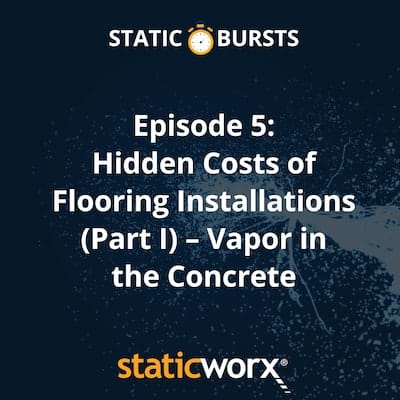 Moisture or vapor in the concrete subfloor can cause your floor to fail, resulting in serious costs down the line – in some cases, vacating the premises and installing a new floor.
People often assume, falsely, that in arid climates, moisture is non-existent. In this episode, Dave and Rick discuss what happens when people fail to do their due diligence (perform moisture tests or ignore readings), and offers advice on how to avoid costly problems.
We've made it easy to subscribe on your favorite platform!
Underground vapor emissions can cause moisture in a concrete subfloor. Environmental moisture can be visible and may exist even in dry desert climates.
When existing floor or tiles are lifted, the moisture will evaporate and appear to be gone. But the subfloor may still contain unacceptable levels of moisture/humidity.
If you build over a wet area (e.g., an aquifer), differences in the interior and exterior climates can cause moisture to come up from the ground into the concrete subfloor.

Moisture causes concrete to become alkaline and the alkaline will "eat" – or disintegrate – the new flooring material

Vapor barriers cost approximately $4 sq/foot – on top of flooring costs.
To avoid and protect yourself against costly mistakes:

Do your due diligence before signing a lease

Examine existing floor/subfloor
Conduct moisture/vapor tests to be sure they meet vapor standards

Ask lessor or seller to provide a clause covering the floor, protecting against existing problems.
"…if you've got a problem [with moisture], put a bunch of machines in the building, start building circuit boards or running a bunch of servers in a server farm, and all of a sudden the floor starts to lift, you might have to move out of that building in order to keep your operation running."
With Staticworx ESD flooring, you never have to choose between performance and aesthetics. Our beautiful, high quality ESD carpet tile, vinyl, EC rubber tile and sheet goods, and ESD epoxy floors are as beautiful as they are functional.