To protect ultra-sensitive electronic circuitry, electronics manufacturing and handling facilities must adhere to more rigid standards than for other types of ESD flooring applications—such as call centers or 9-1-1 dispatch operations that need to protect data, hand-held devices, or networked computers.
Under ANSI/ESD S20.20-2014 guidelines, for use in electronics manufacturing and handling facilities, the floor—tested in combination with footwear—must generate no more than 100 volts of static. Without static-protective footwear—toe straps, heel straps, sole straps, or ESD shoes—every flooring material on the market will generate more than 100 volts.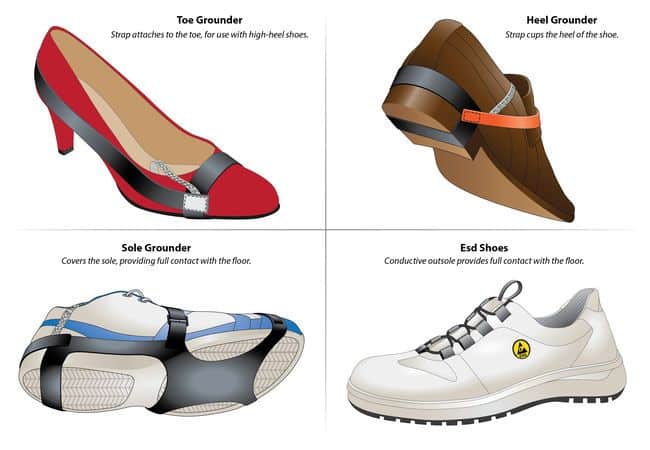 To meet ESD standards for electronics manufacturing and handling operations, every person in the environment must wear some form of ESD footwear at all times. Footwear options depend in part upon the flooring material. With certain types of flooring, the options are limited.
* Because standards for telecommunications and other mission-critical applications are less stringent—the floor must generate no more than 500 volts of static—low charge-generating materials, like conductive rubber and static-dissipating carpet, will reliably protect these areas from static without the use of special ESD footwear (i.e., people wearing regular street shoes).