Conductivity Does Not Prevent Static Generation
The conductive elements in a flooring material draw static to ground. But conductivity is only half the story. The other half concerns charge generation. Charge generation refers to the amount of static that's generated when people walk across the floor (walking body voltage).
In the past, static-control standards prioritized the testing of a floor's conductivity over testing its charge generation properties. It was assumed that the more conductive a floor measured, the more likely that floor was to prevent charge generation. That line of thinking was eliminated several years ago for sound reasons.
Since 2014, ANSI/ESD S20.20 has required charge generation testing regardless of conductivity. The selection process should always include testing for charge generation with the types of footwear that will likely be worn in the space.
Research and job-site audits have shown over and over again that conductivity and charge generation are unrelated performance parameters. If someone wearing standard footwear—athletic shoes with insulative soles, for example—walks on certain conductive floors, the floor will generate static charges on the soles of the person's shoes. This is because the chemical or material makeup of some conductive flooring materials—ESD vinyl and epoxy, for instance—is triboelectrically incompatible with the soles of most street shoes.
No matter how conductive a floor might be, if it's not a low charge-generating material it won't dissipate charges quickly enough to prevent static build up on people as they walk across the floor. Charge-generating ESD floors protect components from static events only if every person in the environment wears special ESD-protective footwear at all times.
With the exception of conductive rubber and some ESD carpet, all static-control flooring generates static on people wearing street shoes. ESD vinyl and epoxy are not suitable for use in mission-critical spaces where footwear is not controlled.
Conductive (EC) rubber, with a triboelectric propensity that's close to the soles of most street shoes, is a naturally low static-generating material. EC rubber is the only resilient flooring material that prevents static generation regardless of the shoes people are wearing.
In mission-critical spaces, where the minimum voltage standards are higher than the <20 V required for electronics manufacturing, ESD carpet will also generate acceptably low-voltage charges on people wearing street shoes.
Low Charge Generation Key to Preventing Static Buildup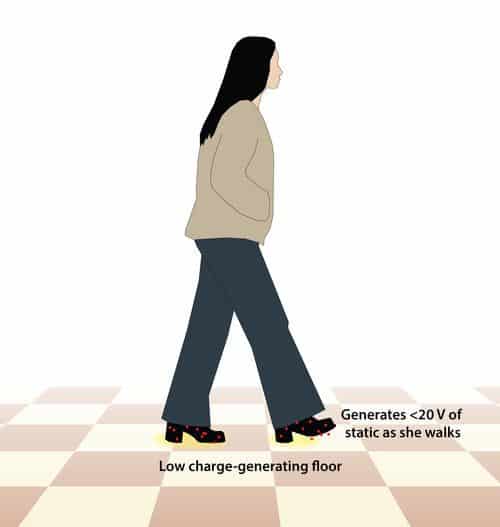 In the electronics manufacturing and handling industry, people are required to wear special, static-protective footwear—such as heel straps, toe straps, or ESD shoes. The conductivity of ESD footwear creates an electrical bond between the wearer, shoe soles, and the surface of the floor, preventing static generation and buildup as the person walks.
To prevent static events, either every person who walks through the space must wear special static-protective footwear at all times, or the floor must be low charge-generating. In class 0 ESD handling, manufacturing, and R&D, management requires a low-generating flooring material and compliance to ESD-controlled footwear mandates.
In spaces where special ESD footwear is mandated and mandates are enforced, most ESD flooring materials will get the job done, in which case the decision comes down to factors such as budget, appearance, ergonomics, noise attenuation, durability (with regards to solvents or chemical spills, high traffic, or heavy loads), and maintenance concerns.
In mission-critical spaces, in which people wear regular, non-ESD street shoes, it's crucial to prevent static in the first place. This means, to protect components and keep the space operational, mission-critical areas must be covered with low charge-generating materials.
Based on a recent comprehensive study by ASHRAE of ESD floors for data centers, the working maximum allowable static charge is now 500 volts or .5 kV. This limit eliminates almost all types of flooring, making static dissipative carpet and ESD rubber the only ideal options for static control.