ESD carpet tiles are easy to maintain and repair. The material cost is on the lower end of the range and tiles are easily replaced, giving carpet tile a comparatively low total cost of ownership.
Chosen correctly, carpet tile can provide many years of service. When seeking longevity in high-traffic environments, the best designs feature random non-directional patterns. These patterns hide seams and provide a visual appearance that utilizes mixed textures and shapes to prevent wear patterns from showing.
Maintenance
Carpet tiles require regular vacuuming and, depending upon the application, traffic, and environmental conditions, annual (or more frequent) steam cleaning.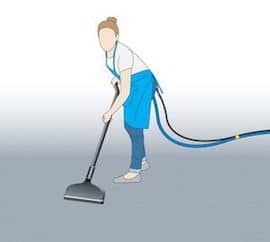 The labor cost for steam cleaning is relatively low, and regular vacuuming is easy and cheap, especially when handled by in-house personnel.
Durability
When evaluating carpet construction and durability, particularly for 24/7 spaces and other heavily trafficked areas, it's important to understand the role of fiber geometry, measured as modification ratio. The rule of thumb, when looking at durability and long-term appearance, is to avoid mill-branded yarns, typically made in house to cut costs, and stick with carpet tiles using premium yarn from third-party fiber manufacturers, such as Universal, Invista and Aquafil.
The ideal modification ratio for heavy-traffic and 24/7 spaces is less than 2.0.
ESD carpet tile is factory-tested for durability. With the right modification ratio, carpet wears well in medium- to severe-traffic areas, such as mission-critical spaces or call centers. Carpet tile with a high modification ratio is vulnerable to soiling and fiber crush, making it unsuited for high-traffic spaces within manufacturing operations, or in areas like 9-1-1 call centers where roller-caster chairs are used 24 hours per day.
Easy to Repair
Carpet tiles do not require professional installation or repair: modular tiles are easily replaceable by a regular maintenance crew. 18- and 24-in. tiles can be easily removed and replaced into the conductive-releasable adhesive without tools and with no special skills. Carpet adhesive dries in less than an hour and can remain uncovered for several days during installation. Glue-free installations done with a GroundBridge underlayment can be repaired in a matter of minutes by anyone in the building, regardless of flooring experience.
Broadloom carpet and older carpet tile designs had problems with dye-lot variation. Some manufacturers now use a computer-generated process to match yarn colors. The dye lots are called mergeable, meaning new carpet purchased in the future will match the existing carpet tile, and individual tiles can be replaced without having to recarpet the entire room. Keeping a small supply of carpet tiles on hand ensures uniformity, as well as immediate replacement.
Finally, always pay attention to design. Far and away the most low-maintenance carpet tile has what we call "random non-directional" (RND) patterns. RND designs can be laid in any order or direction, and hide wear and seams, increasing the lifecycle of the carpet by about 40%.