RND Designs Increase Lifecycle by 40% Over Monolithic Patterns
At one time, carpet tiles had to be installed monolithically. In layman's terms, all tiles had to be oriented in the same direction. New, a monolithic installation looks absolutely seamless, almost as if the entire area is comprised of one large piece of carpet. This type of installation looks great—until a damaged tile requires replacement. The new tile stands out, appearing to be a different color than the existing floor, even if the new tile came from a carton of leftovers from the original batch. This visual deficiency becomes more apparent as an installation ages. Usually by the 4th or 5th year, due to wear in high traffic aisles and the mingling of old and new tile, a monolithic installation looks tired, and in need of replacement.
Today, carpet tiles such as ShadowFX SDC Patterns have a random non-directional (RND) design. These tiles can be installed with no concern for orienting the grain, direction, or pattern. Visually, the floor looks like a field of small random blocks—a collection of subtly changing textures with no evidence of delineation from one spot to the next. When RND tiles are replaced, there are no matching issues, so it's nearly impossible to distinguish the new tile from the old.
RND technology also hides wear, extending the lifecycle of the carpet tile by nearly 40% —making static-dissipative RND tiles a great value for a manufacturing or assembly environment. Their increased lifecycle is the reason high-traffic public spaces, such as airports, have embraced RND designs around the world.
Ideal for Test and Assembly Areas
Mark Leininger, VP of corporate strategy and development at ABX Engineering in Burlingame, CA, has used carpet tiles for over eight years and found them to be the most effective solution for his SMT assembly and test areas. ABX takes ESD so seriously that they decided to make their entire facility into an ESD-protected area or ANSI/ESD S20.20 EPA. They have installed ShadowFX ESD carpet tile in all offices, conference rooms and even the company lobby.
Meets ESD Standards for Resistance and Body Voltage
"Shock-Free" Low kV Carpet Cannot Be Grounded
In the past, to inhibit static generation, carpet manufacturers thought they had only to prevent people from getting shocks when they walked across the carpeted floor. By preventing shocks and static sparks on people who touched the components, they believed—incorrectly—computer equipment would also be safe from static discharge.
By using anti-static additives or tufting the carpet with carbon bi-components, housed inside the core of the yarn fibers, they succeeded in preventing static shocks. But some of the antistatic agents worked by drawing moisture from the air, making the conductivity of the carpet dependent upon relative humidity; and topically-applied anti-stats wore off over time. Housing carbon bi-components in the core of the yarn fibers insulated them from the carpet's walking surface; without electrical contact points, the static-dissipative properties of the carbon were isolated and ineffective.
While ideal for residential and generic commercial applications, this so-called "antistatic carpet"—sometimes referred to as "shock-free" or "low-kV" carpet—cannot be grounded and does not come close to meeting ANSI/ESD S20.20-2014 —the ESD industry standard parameters for conductivity and charge generation necessary in electronics manufacturing and handling.
Reliable Path to Ground and Low Charge Generating
Today, in the tufting process, heavier denier carbon fibers can be woven into the yarn bundle, creating an almost infinite number of contact points, providing a fast and reliable path to ground.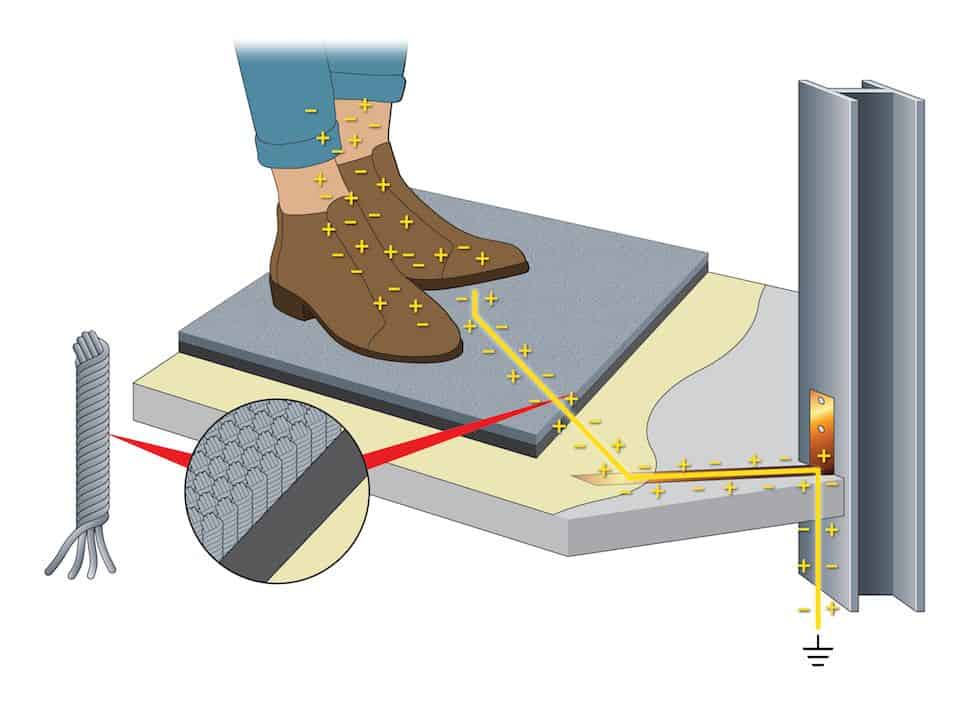 With (non-mill) branded yarns with low modification ratios, from yarn manufacturers such as Invista, Aquafil and Universal, carpet tiles can be produced to withstand severe punishment and high traffic.
Perhaps the biggest electrical advantage of ESD carpet tile is its ability to inhibit static on people—whether everyone in the space wears the correct ESD footwear or if they wear regular street shoes.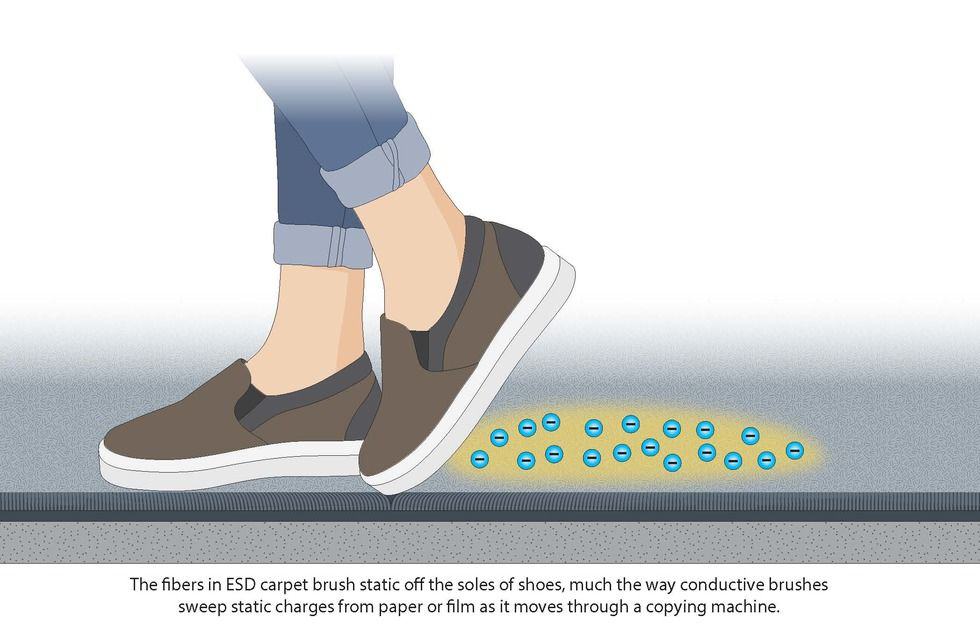 Vulnerable to Chemical Spills, Forklifts and Pallet Jacks
As with any material, carpet has its disadvantages. The one area ABX chose not to carpet was the approximately 3-foot perimeter around an aqueous cleaner. To handle spills, they installed Ameriworx vinyl tile, using the same adhesive as the carpet tiles. If the machines are ever moved, ABX will be able to easily pull up the vinyl and swap out the area with carpet tile.
Carpet is not well suited to accommodate warehouse areas where heavy loads are constantly moved with forklifts and pallet jacks. Carpet also has a low resistance to chemicals and solvents.