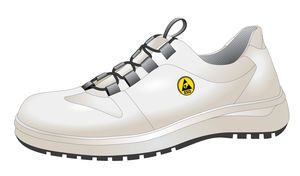 ESD shoes are no longer your grandfather's—or grandmother's—hideous, orthopedic-looking footwear. Today, ESD shoes come in a variety of styles to suit both men and women. More expensive than heel, toe, or sole straps, conductive or dissipative shoes are typically used in electronics manufacturing and assembly applications, and selected to help to ensure compliance with ANSI/ESD footwear protocols.
Easiest type of footwear to use
ESD shoes are superior to heel, toe and sole straps in that shoes are easier to put on, so more likely to be used properly. Shoe straps can slip or slide, be attached incorrectly, or—if the conductive band is incorrectly inserted—straps can fail to make electrical contact with the skin.
Compliance is easy to monitor.
ESD footwear should never be worn outside the facility. Upon entering the workspace, people should be required to put on static-protective heel, toe or sole straps, or change to ESD shoes. Requiring people to change shoes makes compliance relatively easy to police. With the ESD symbol on the back or side of the shoe, ESD shoes are easy to spot in the work area. As they're bigger and bulkier, ESD shoes are also easier to see than heel, toe or sole straps.
Full, continuous contact with the ESD floor
In terms of static protection, ESD shoes are similar to conductive sole straps: both types of ESD footwear provide full contact with the ESD floor, and protect against static even when one foot is off the ground or the feet are partially lifted. Continuity ensures constant protection.