The most attractive ESD floor will fail if it's specified for an incompatible space or does not meet the proper industry-specific ESD standards. A flooring failure can force a facility to shut down production and result in liabilities no architect wants to—or should have to—deal with. With due diligence, by adhering to industry-specific protocols, you can avoid the costly mistakes that get specifiers in trouble.
THE GIST: Avoid Costly Failures: What to Know When Specifying ESD Flooring [12 min read]
Standards vary by industry. Standards for electronics manufacturing and handling differ from those governing telecom, PSAPs, FAA flight towers, and other end-user spaces. To avoid costly mistakes, do due diligence and follow industry protocols.
Before specifying a floor:
Familiarize yourself with the basics of ESD flooring;
Know ESD terminology;
Be sure flooring materials are appropriate for the application (note: some static-control floors perform only in conjunction with ESD footwear)
make an ESD flooring checklist:

the environment
conductivity (find the "sweet spot")
upper limits for charge generation (application specific)
standards and test methods (industry specific)

Be sure the floor provides permanent static protection;
Do not rely on manufacturer's specifications: require independent test reports.
After the floor has been installed, require a post-installation audit.
All ESD flooring options should be tested and evaluated based on the type of footwear that will be used in the space. Epoxy coatings and ESD vinyl offer no static protection without the (enforced) use of special static-control footwear.
To be sure the floor meets industry-specific standards and specifications, always request independent lab test reports.
ESD Flooring Is Easy To Install
Hire Locally or Consider Using Your In-House Facilities Team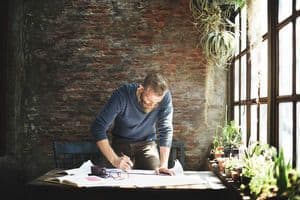 If you're an architect or designer charged with specifying or selecting a static-control floor, you know that aesthetics is only part of the picture. The most attractive ESD floor will fail if it's specified for an incompatible space or fails to meet the proper industry standards. And product failure can result in liabilities that no architect wants to—or should have to—deal with. By following industry protocols, you can avoid the mistakes that sometimes get specifiers in trouble.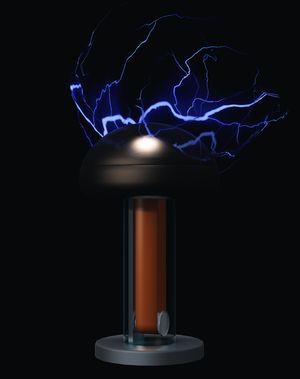 In addition to color and design, your objectives for any floor you specify probably include items such as budget, durability, ergonomics, and sustainability. These are important considerations. There's no reason why you shouldn't be able to find an ESD floor with excellent static-protective properties that also meets these secondary objectives.
Before specifying any floor—or thinking about design, color, ergonomics, or even budget—it's crucial that you understand the basics about static electricity and electrostatic discharge (ESD) and that you're familiar with common ESD terms. If this is your first exposure to ESD flooring, taking a few minutes to read an article or two now will save you time, energy, and headache down the line. To learn the basics of ESD and ESD flooring, click here.
Here are spaces where ESD flooring is required and used:
Spaces Requiring ESD Flooring
Controlled Environments/Manufacturing
Examples: ESD-protected areas (EPA), including microelectronics fabrication; circuit board assembly; manufacturing test and repair of electronics; cleanrooms
Complies with ANSI/ESD S20.20: 100 volt static-charge maximum
Handles open electronic parts
Floor in combination with special static-control footwear provides ground connection
Foot grounders or ESD shoes mandated and enforced
Wrist straps required
Mission-Critical Spaces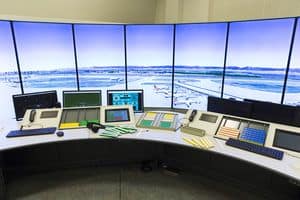 Examples: mission-critical areas such as server rooms; 9-1-1 dispatch areas; development labs; university labs; data centers; certain cleanrooms; flight command centers; hospitals; government offices
Requires uninterrupted operation of electronic systems
No wrist straps or special footwear
Floor must prevent charges on people wearing all types of footwear
Before Specifying Any Floor, Make an ESD Checklist.
First and foremost, check the environment. Are you specifying a floor for an ESD-protected area (EPA)—where the use of special footwear and wrist straps is mandatory? Are mandates enforced? Or will the floor be used in an end-user equipment environment—where there are no static-control protocols?

To be sure electronics are protected, whether or not people follow footwear rules to a T, strive for fault-tolerant, ESD protection that provides low-static-generation performance with or without special footwear.

Check the footwear requirements. When evaluating the static-generating properties of a floor, account for all types of footwear—including special static-control footwear as well as regular street shoes.

Ensuring compliance is easy: simply require that the floor under consideration has been tested and meets ESD-industry standards. Test method ANSI/ESD STM97.1-2015 evaluates the electrical resistance of a floor with the test subject wearing ESD footwear. ANSI/ESD STM97.2-2016 measures the amount of static—or voltage—generated when the test subject walks on the floor wearing various types of footwear.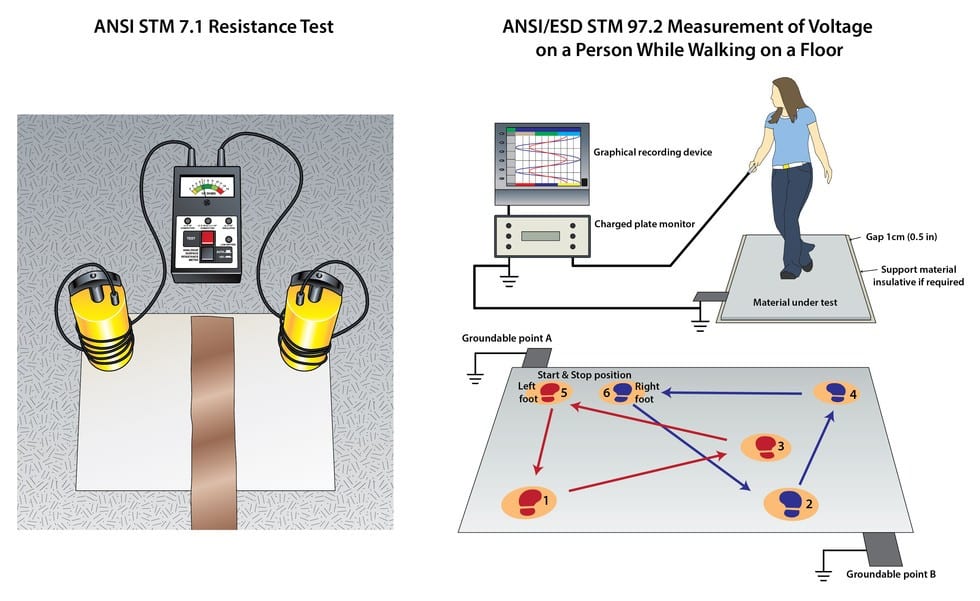 Check to be sure flooring materials are appropriate for the application. ESD rubber, vinyl, carpet, and epoxy are all appropriate for different environments.


Rubber

ESD rubber, a naturally low-static-generating material, works well in spaces where people typically wear regular street shoes. Because it's a softer material, rubber is also great for labs and other spaces where people are on their feet for long periods of time.

Vinyl

ESD vinyl, with its low cost and clean, hospital-like appearance, can give electronics manufacturing or handling facilities—where personnel are required to wear ESD-protective shoes—a striking appearance without breaking the budget.

In a 24/7 mission-critical space, where people wear street shoes, an ESD vinyl floor will generate enough static to blow headsets, disrupt data, and destroy the microcircuits inside sensitive electronic components.

Carpet

Like rubber, ESD carpet is a soft, low-static-generating material; because carpet reduces noise when people walk, it's great for spaces, such as flight towers or mission-critical call and 9-1-1 dispatch centers, where noise levels need to be kept to a minimum.

Epoxy

The least expensive material, ESD epoxy has some downsides, such as a long drying time and difficulty of repairs, that prevent its being an optimal choice for many applications. In environments where forklifts are used or people push heavy carts, a hard, durable surface makes ESD epoxy an excellent choice.

Multiple Flooring Materials

Consider using a combination of flooring, as needed. ESD flooring materials can be mixed and matched, with ESD vinyl or rubber, for example, placed in heavy traffic areas and carpet in quiet adjacent spaces.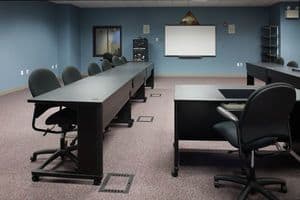 Check conductivity levels. Conductivity—the opposite of electrical resistance—determines how quickly, or slowly, a material will transport electrical charges, such as static electricity, to ground.

Find the "sweet spot" for conductivity.

Industry standard ANSI/ESD S20.20 requires the electrical resistance of ESD floors to measure under 1 x 10E9 ohms. Materials that measure at or close to 10E9 may not bleed static to ground quickly enough to prevent damage to sensitive components.
Materials that measure under 1 x 10E5 may be too conductive and compromise the safety of people working on or near energized equipment. That's why standards such as Motorola R56 (used by the telecommunications industry) and FAA 019f (regulating flight towers) forbid the use of materials that measure under 1 x 10E5.


The Sweet Spot for Conductivity

Electrical resistance should be verified with an Ohm meter. If the material does not pass the Ohm meter test—measures above 1 x 10E9 ohms—it cannot be grounded.

If a material can't be grounded, it doesn't work—and it won't protect electronic equipment from damage caused by random static discharge.

Avoid materials measuring less than 1.0 x 10E5 Ohms for mission-critical operations.

As noted above, these materials are too conductive to be used safely around energized equipment, and forbidden by the telecommunications industry and FAA.

Check terminology. Pay special attention to terms like conductive, static dissipative, Ohms, volts, resistive properties, ground, Resistance to Groundable Point (RTG), Resistance–Point to Point (RTT), and static generation.
Check specifications to determine the upper limits for body voltage generation.

ANSI/ESD S97.2: the ideal upper limit for charge generation:

Mission-Critical: should not exceed 500 volts (.5 kV)
EPA: cannot exceed 100 volts (.1kV)
Class 0 ESD: should not exceed 25 volts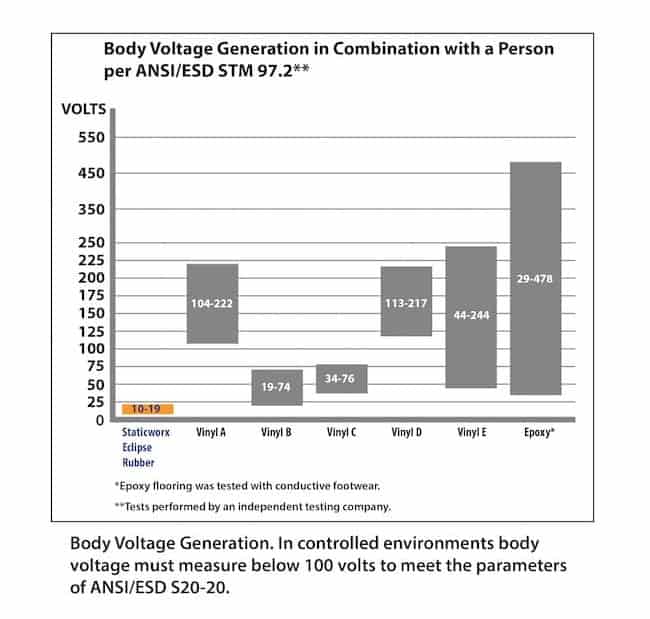 Check grounding standards and test methods.

Write your specification based on performance parameters.

Check to be sure the floor provides permanent static protection. Static-control floors should never require anti-static sprays or waxes to enhance their static-control performance properties.
Check the floor after it is installed. Request a free flooring audit.

Environmental conditions often change post-installation. Air conditioning, for instance—which is rarely in use during installation—will lower relative humidity. Testing the floor post installation will determine whether or not it has retained its electrical properties.
Static-control flooring options
Static-Control Flooring Options
Environment
Complies with ANSI/ESD S20.20 using ESD Footwear
100 volt maximum
Environment
Mission-Critical
No ESD Footwear
500 volt maximum
Eclipse EC and GF Rubber
Yes
Yes
Conductive Vinyl Tile
Yes
No
Static-Dissipative Vinyl Tile
Yes
No
Plastic Interlock Conductive Flooring
Yes1
No
Plastic Interlocking Dissipative Flooring
Yes1
No
Conductive Epoxy Coatings
Yes1
No
Static-Dissipative Epoxy Coatings
Yes1
No
Shadow FX Static-Dissipative Carpet Tile
Yes
Yes
Antistatic High-Pressure Laminate (HPL)
No
No
Conductive High-Pressure Laminate (HPL)
Yes
No
Note1: Always request independent lab test reports. Some epoxy coatings and Interlocking ESD vinyl floors do not meet the maximum 100 volt charge generation requirements of ANSI/ESD S20.20 when tested with ESD footwear.
All static-control flooring options should be tested and evaluated based on the type of footwear that will be used in the specific space. Epoxy and vinyl offer no static protection without the use of static control footwear.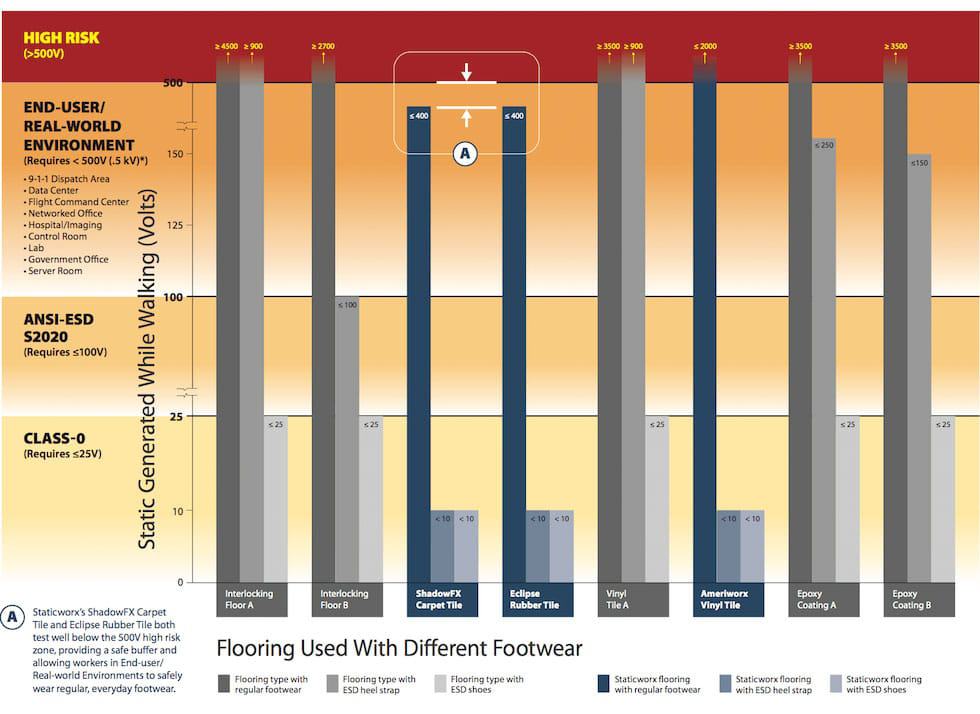 Suggested Reading
What is ESD?
A Guide to ESD Flooring Selection
Selecting and Specifying an ESD Floor
Technical Information
Installation & Maintenance
Choosing ESD Flooring for:
With Staticworx ESD flooring, you never have to choose between performance and aesthetics. Our beautiful, high quality ESD carpet tile, vinyl, EC rubber tile and sheet goods, and ESD epoxy floors are as beautiful as they are functional.