Vinyl floors are the most difficult and costliest to maintain. Vinyl is durable and, in most cases, requires minimal repair; however, maintenance could be pricey. All vinyl floors require some form of regular buffing.
Beware of any claims that describe vinyl floors as having special factory-applied polyurethane (PU) coatings that never need to be waxed. PU coatings are static generators. A floor coated with PU might exhibit acceptable electrical ohms resistance properties but lab tests confirm that it will not meet the walking body voltage requirements of ANSI/ESD S97.2 in S20.20.
Beware of high-shine factory coatings on vinyl floors. These shiny surfaces are merely the result of a factory polish that will not last more than a few months.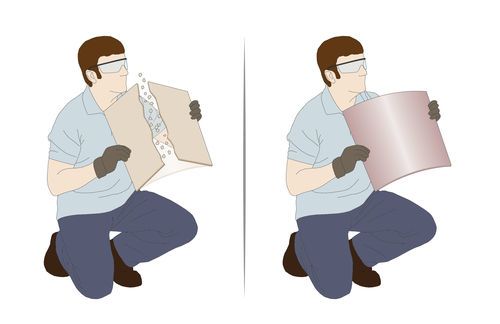 Factory polishing adds significant cost to the product and once traffic has dulled the shine, the floor will require special maintenance.
Bend and fold vinyl tiles as part of any due diligence evaluation of physical properties. Some vinyl floors are soft and become easily fragmented from stress loads. Broken tiles are unsightly, potential safety hazards, and, depending upon the extent of the damage, can create traffic interruptions during repair.