You may have heard ESD flooring manufacturers refer to a standard called NFPA 99. With roots dating back to the 1950s, NFPA 99 guides health care services in minimizing the hazards of fire, explosion, and electricity in their facilities.
In 2015, the NFPA removed conductive flooring from the standard. But let's forget for a moment that, for ESD flooring, NFPA 99 is defunct.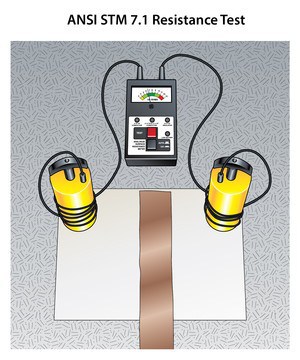 To meet the NFPA standard, the electrical resistance of an ESD floor had to measure no less than 2.5 x 10E4, or 25,000 ohms. The resistance test for NFPA 99 is similar to ANSI/ESD Standard Test Method (STM) 7.1. Both tests measure electrical resistance—or a floor's capacity to resist, or reduce, electrical current.
Neither test reliably simulates a real-world environment: Both use a battery-operated generator to apply voltage across the surface of the flooring material. Battery-operated generators put out direct, or D-C, current, which flows in one direction. The electricity in common power circuits travels in waves, or A-C, alternating current, which periodically changes or reverses direction.
An independent engineering lab tested the resistance of ESD floors using both A-C and D-C currents. Delivered across an ESD floor, A-C currents measured as much as nine times higher than predicted by theoretical calculations based on Ohm's Law.